Today I am going to share with you the download links of HP OfficeJet 4650 printer driver. Most of the users get confused with 4650 deskjet, Laserjet and officejet models. Make sure you are downloading the right driver for your printer otherwise the wrong driver will throw you towards the driver conflicting problem. Also, once a driver conflict occurs on your computer, it is very typical to remove it.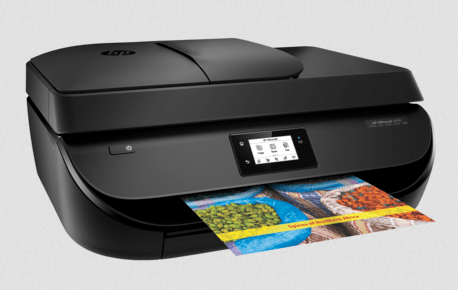 This HP OfficeJet 4650 driver download link is available for the following operating systems: Windows XP, Vista, 7, 8, 8.1, 10, Server and macOS v10.0 to 11 Big Sur.
Steps to Download HP OfficeJet 4650 driver
Method 1: First we are sharing with you the download link of HP officejet 4650 driver's CD which is of 494 MB. One of our visitors and users of the HP OJ 4650 printer (John Parry) has shared their original driver CD content with us to share it on this page. I would like to say thanks to Mr. John Parry for this kind contribution.
Most printer issues come from
missing or corrupt drivers
. You can use an automated driver updater to
quickly fix problems
and keep your system up to date. We recommend downloading
DriverFix
.
Note: If you are planning to reinstall the HP 4650 printer on your computer then carefully follow the following instructions carefully. Ensure to uninstall the currently installed driver from the control panel before trying to reinstall. Then go to the printers page and remove the HP 4650 printer icon by right-clicking on it and choose remove.
Download Driver CD
(494 MB – Complete CD)
OR
Method 2: Determine the operating system of your computer. See the below given download list and click on the download button in front of your determined operating system. Scanner driver is already included in their driver packs.
OR
Driver compatibility:
An incompatible printer driver can cause numerous malfunctions on your printing device as well as your computer. However, with our printer drivers you don't have to worry about this issue. All our printer drivers have been tested by experts for their compatibility with their associated operating systems and the HP OfficeJet 4650 machine.
How to install HP OfficeJet 4650 printer

There are three options to install this (HP 4650) printer on Windows. We have mentioned all three methods below. Please check it out.
We know that most users want to reduce the risk of driver conflict – if anyhow you installed the wrong model number driver by mistake on your computer then it ends-up with the diver conflicting.  As I said already, driver conflicting is very bad damage.
To avoid these types of complications, we are providing the right driver along with its proper installation process. Please apply one of the following methods carefully.
Option #1:

Install HP OfficeJet 4650 driver using its driver's CD
Turn on the printer by pressing the power button on it.
Load the driver CD that came with your printer into your computer's CD drive.
The AutoPlay window will pop-up and prompt you to Install or run the program from your media.
Click on Run or execute the file named Autorun.exe.
Windows will ask you if you want to open the installer at which point you should click on Yes.
Before the installation can continue, you need to review the agreements and then click on the checkbox next to "I have reviewed and accepted the installation agreement".
You'll now be prompted to click Next to begin installing HP OfficeJet 4650 printer drivers. The Installer will copy files from the CD and transfer them to your computer.
A menu with a few choices will appear, so make sure you choose the way you want to connect the printer to your computer.
Choose to either connect it through a wireless network, a wired network or using a USB cable.
A window will then appear asking that you connect one end of the USB cable to your printer and the other to your laptop/computer.
Your computer will find the printer (automatically) and then continue/next with the installation.
Once the installation is complete, the installer will notify you about it.
A window will appear saying the software was successfully installed, Click Finish.
Option #2:

Install HP OfficeJet 4650 driver using its online setup file

You can install printer drivers even if you have lost your printer drivers CD. This is the method that allows you to install HP OfficeJet 4650 printer without CD (disc).

Download driver

Go to the above download section and click on the download link according to your operating system version. Scroll above to find the driver download section.


Then follow the below given instructions to install HP OfficeJet 4650 driver
Click on the driver package and choose where you want to download it on your computer.
Click Save and wait until the download is complete.
Double click on the Driver package of your choice after it's downloaded. The installation will extract the files required to begin.
The installation will now begin, so walk the Wizard prompts to install the drivers.
Accept Installation agreements.
Connect your printer to your computer when prompted to do so.
Click Finish to finish installing the drivers.
Option #3:

Install the hp officeJet 4650 driver manually
Go to Start.
Locate Control Panel on the right and click on it.
Go to Hardware and Sound.
Under Devices and Printers, click on Add printer.
Choose Add a local printer if you don't have a USB printer listed in the list. That's because Windows installs USB printers automatically as you plug them in.
Choose a port for your printer or create a new one and then click Next.
Choose your printer from the list (including brand and model) and click Next.
Now all you have to do is select Use the driver that is currently installed (recommended) and click Next. If you don't find your printer drivers in this default list then you have to download drivers first from their own official website then extract them to temp folder then give that temp folder path in this "add a printer" installation wizard.
Click next again and then click Finish.
Pro Tip: The best method of eliminating driver conflicts is by uninstalling all the unnecessary and old drivers from your computer. However, if you are unable to do this, then at least make sure that only useful drivers are running on your computer when you are using the HP OfficeJet 4650 printer.
HP 4650 Features
HP OfficeJet 4650 is an All-in-One printer that can print, scan, copy and fax jobs. It has duplex feature that makes it a unique in the range. It should be informed that the duplex feature works only in printing and not in scanning and copying. It has LED touch display which makes this printer look costly.
Despite having a 3tri-colour ink setup, it produces a very good quality photo print quality which is more than enough if you choose INKJET printer. Since its is a Inkjet printer, the printing speed it bit slower than laser or INKTANK printers.
You can scan the document from both scanner flatbeds of the automatic feeder which allows you to save the document in PDF format as well which which perfectly fits for corporate users.
If you come in printing efficiently then this printer comes up to the mark.
HP inkjet technology.
Product number: F1JU3A#B1H
Print resolution of up to 4800 dpi.
Print speed of up to 20 ppm for black and 16 ppm for color prints.
Automatic two-sided printing.
Wireless printing.
I have shared the driver download link and installation guide. If you face any problem in downloading and installing the printer driver then leave your query in the comments down, we'll try our best to answer you there.
FAQs
Ask a question like these.
Ask Question
,
you'll get answer as soon as possible.

It's completely FREE.
Question: HP4650 and Windows 10. I don't get the option of colour or greyscale in Word. I have the latest HP drivers. This is not an unusual problem, there are many instances easily found by google, but not a solution.
Answer: Go to the printer properties and you will get the following screen, then tick the check-box for the "grayscale" screen, then take the print.