Wireless printing is an extremely useful feature which is provided by many printers now a days. This function allows you to print from any computer or wireless device connected to your Wi-Fi router as your printer gets into the same network as your computing device. However, to avail this amazing function of your wireless printer you must connect it to your Wi-Fi router or modem wirelessly. Therefore, in this guide, we will tell you how to connect a wireless printer to your Wi-Fi router or modem wirelessly.
Things to Verify Before Starting
Before you start connecting your wireless printer with your Wi-Fi router or modem you must check following things.
Most printer issues come from
missing or corrupt drivers
. You can use an automated driver updater to
quickly fix problems
and keep your system up to date. We recommend downloading
DriverFix
.
Your Wireless printer must support WPS push button mode.
Your Wi-Fi router / modem must have WPS button.
Also, remember that you don't need a computer when you are connecting your printer to the router or modem using WPS. Therefore, while installing the printer software or while connecting the printer to your router / modem if your computer asks you to enter WPS pin, then click on cancel.
This message means that your computer has detected the Wi-Fi direct feature of your printer, but it has no role in the WPS setup so you can cancel it.
How to Connect A Wireless Printer to Your Wifi Router or Modem Wirelessly
Connecting your wireless printer to your Wi-Fi router or modem is really simple. The whole process will get completed in a few minutes if you follow the steps mentioned below in their exact order.
A) For Printers with Wireless Button only

1. Press and hold the wireless button of your printer for 3 seconds until the wireless light starts blinking.
2. This will start the connection process. Now move to Step C.
B) For Printers with No Wireless Button but Control Panel
Go to 'Network Settings' or 'Wireless Settings' menu.
2. Open 'Wi-Fi Protected Setup'.
Tap on 'Push Button' or you can use the pin if you know your WiFi password.
Then, press 'Start'.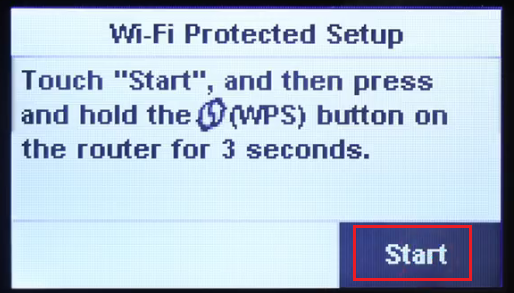 5. This will start the connection process. Move to Step C.
C) For Wi-Fi Router or Modem
On the router or modem, press and hold the WPS button until the WPS light starts blinking.
It can take nearly 2-3 minutes for your printer to connect to your router or modem.
---
Once you have connected your wireless printer to your Wi-Fi router or modem you can install the software on your mobile device or computer and start printing wirelessly. Wireless printing is an amazing feature offered by printers these days, but to use the full potential of this feature you must connect it with your Wi-Fi router or modem.
FAQs
Ask a question like these.
Ask Question
,
you'll get answer as soon as possible.

It's completely FREE.
Question: How do I connect a hp wireless printer to a modem that uses an Ethernet cable?
Answer: You can only do this if your printer has an RJ45 port (Ethernet port). What you need to do is, connect your printer to the router/modem using Cat5/6 cable and then set the printer's IP address of the router IP range. Then simply install your printer using its installer or install it manually.