Using an HP printer through Wi-Fi is a good way to adopt wireless printing technology. Sometimes we face problems while connecting HP wireless printer to the computer. At this time, you need to reset its network settings for a fresh installation. Follow the below-given steps to reset the network settings of various wireless HP printers to restore their default settings so that you can connect it to your computer, phone, iPad, or tablet.
Steps to Reset HP Printer Network settings
Steps to be applied to your printer.
A) For printers without a touch display
(Without LCD)
It covers Deskjet, All-in-one, Inkjet printers.
1. Wake the printer from sleep mode by pressing 'Cancel' button.
2. Press and hold the 'Wireless' and 'Cancel' buttons together for 5 seconds.
3. That's it, the network settings will be reset successfully. If you have any confusion with the above given reset steps then watch this video tutorial for more details.
B) For printers with touch display
(With LCD)
1. In the Wireless or Network Settings menu, find and select 'Restore Network Defaults' or 'Restore Network Settings'.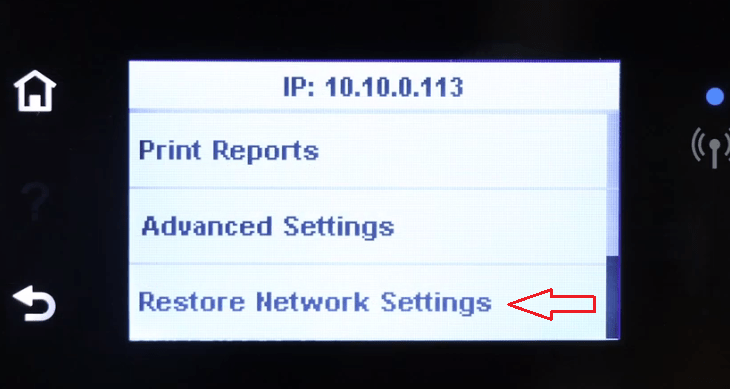 C) For LaserJet Pro printers
(With LCD)
1. Press and hold the 'Wireless' button until you see 'ready' and 'attention' lights blinking simultaneously.
D) For Tango / Tango X printers
(Without LCD)
1. Press and hold the 'Wireless' button on the back of the printer for 5 seconds or till the blue color edge lighting starts rotating.
You have seen 4 types of HP printer reset process. If the above reset process doesn't work on your HP printer (particular model number) then leave the model number in the comment section down below.
---
Questions & Answers
Search for Answers / Ask a Question - you'll get answer as soon as possible. It's Free
Question: How do I reset an hp laserjet that the lcd screen is not on?
Answer: Without the LCD screen you cannot do reset. The LCD screen should be on to perform the steps.